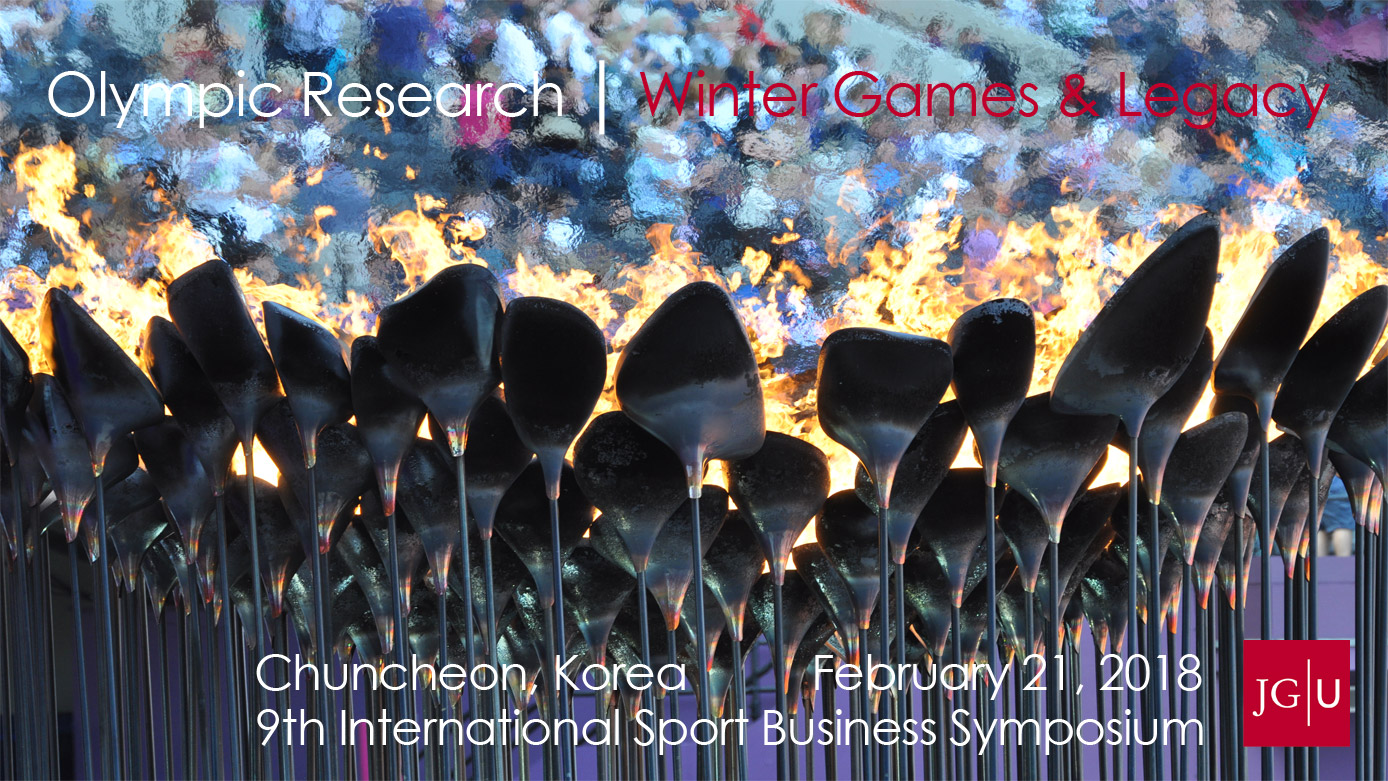 Dear Colleagues,
Dear Friends of Sport and Sport Science,
"Passion. Connected."
This is the official slogan for the 2018 Olympic Winter Games in Pyeongchang. "Passion" represents Pyeongchang's role as the venue for a global festival in 2018, where people will experience the excitement of the Olympic spirit, while enjoying the warm hospitality of Koreans and sharing inspiring stories. "Connected", meanwhile, signifies the openness of the host city, where every generation can participate in the Games – no matter where they are – thanks to Korea's cutting-edge technology and cultural convergence. It also represents a new beginning and the opening of 'New Horizons' for winter sports in Asia.
Following this spirit, we would like to invite you to Chuncheon for the 9th International Sport Business Symposium, organised by Prof. Holger Preuss (Johannes Gutenberg University Mainz) in cooperation with Prof. Seok-Pyo Hong (Kangwon National University).
The Symposium Spirit
The Greek symposium, dated back on 416 B.C., was a key social institution in ancient Hellenic culture and provided a platform for debate and celebration with others. This is also what we are striving for! Since 2006 it has become a tradition that Olympic scholars from all over the world come together for a symposium during the Olympic Games as well as other Olympic events to exchange thoughts, present their Olympic research and have a great time together. The next occasion will be Wednesday, February 21, 2018.
Context and Venue
The Olympic Winter Games are the most prestigious winter sport event in the world and provide extraordinary opportunities in regards to sports, social and cultural life as well as for the environment of the host city, region and country. The host must undertake tremendous efforts to not only fulfil the requirements for staging the Games, but also to maximize the economic, social, environmental, political, and structural benefits which come along with the event.
This demand will lead to a tremendous legacy. Hosting Olympic Winter Games in a region such as Pyeongchang induce many changes which normally take many years, such as creating new connections to Seoul, develop winter sport facilities, start new businesses, strengthen tourism and hopefully improving participation in winter sports. On the other side, it might bear risks and challenges for the host city such as overinvestments, hasty construction, displacements etc.
How to take part
Scholars who would like to present at the symposium will need to submit their abstracts for a double blind review process. Those interested are also invited to submit their full paper to our special issue on "Olympic Games and Legacy" at the "Journal of Global Sport Management".
We cordially invite you to the 9th International Sport Business Symposium and we would be delighted to seeing you in Chuncheon in February
With kind regards,
---