---
Presentations
The presenting time for each speaker is 10 minutes. In order to live up to the original idea of a symposium, questions to the speakers from the audience will be postponed to the end of each session to stimulate in-depth discussions among all attendants.
Final schedule (PDF download)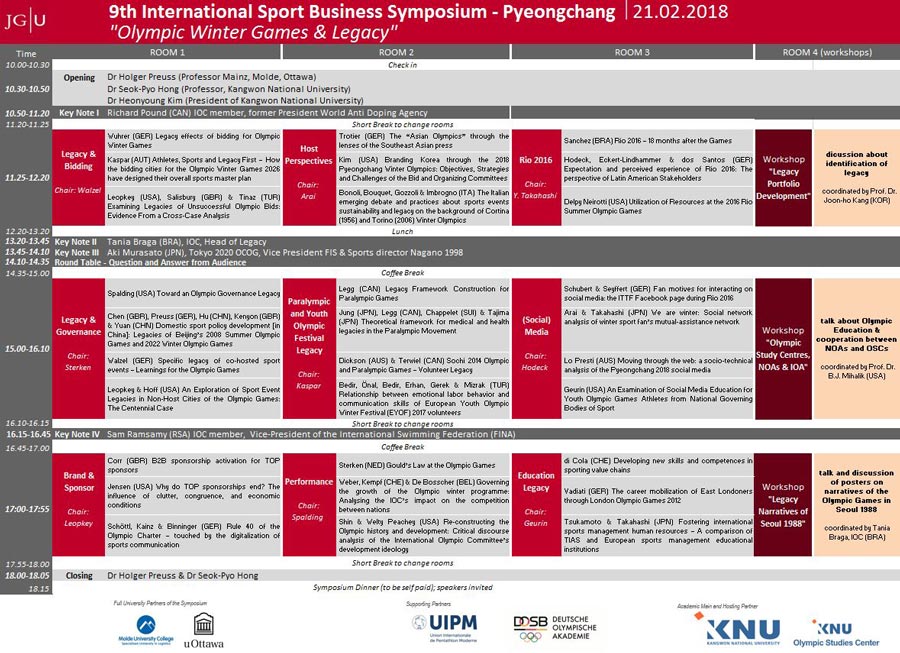 ---
The workshops are a core part of our symposium. The original idea of a symposium is to meet people, exchange thoughts and ideas and to discuss. All participants looking for an opportunity to have in-depth discussions and debates on selected topics are welcome at the three different workshops. We have picked distinguished leaders for the workshops that have a broad knowledge in their field. They will commence the workshop with a brief introduction with the aim to stimulate a fruitful debate among all participants.
Workshop "Olympic Studies Centres, NOAs and IOA"
Prof. Dr. Brian Mihalik (USA) will shortly present his Olympic Studies Center (OSC). We will also get an introduction of the OSC of our host, Kangwon National University. Afterwards, representatives of other OSCs or NOAs have the opportunity to introduce themselves and what they do. Most important is to exchange thoughts and ideas and to start thinking about how National Olympic Academies can better cooperate with research centres.
Olympic Research Centers need to investigate mega-events because they are transformative, attract large numbers of participants, can have international participation and have impact beyond the Games and events itself. Olympic events and the venues in which they are held are intertwined sectors representing a global, multi-billion dollar industry that can have political, social, economic, environmental and cultural impact on neighborhoods, cities, regions and nations. The media coverage of the Olympic Games reaches the living rooms of billions of our planet's inhabitants impacting populations regardless of proximity. The Olympic Games and venues can leave a multi-decade legacy, some inspiring, some negative. Identifying and understanding the impact of the Olympic Games and other mega-events is essential for those in authority as well as other stakeholders to make informed decisions and responsible policies.
Workshop "Legacy Narratives of Seoul 1988"
Tania Braga (BRA), IOC Head of Legacy, will shortly introduce the way how narratives were collected from Seoul 1988 to start with the detection of legacy. She will provide an overview of how manifold and diverse the legacy of Seoul 1988 is.
Workshop "Legacy Portfolio Development"
Prof. Dr. Joon-ho Kang (KOR) leads a discussion on potential ways to develop a portfolio on legacy. As legacy is so difficult to measure, we should consider that a portfolio of legacies is, most likely, what we should strive for in the first place.
Olympic legacy is a key agenda to make the Olympic Movement sustainable. However, we have yet to have the common understanding of Olympic legacies. It is in urgent need to systematically examine the structure, factors, variables, implementation, and measurement for Olympic legacy.
This workshop provides a chance for open discussion to explore each of the issues for Olympic legacy.
Workshop "Olympic Sponsorship Today: Rule 40 and the Future of TOP"
Olympic Sponsorship Today: A Rights Fees Explosion, Rule 40, and the Future of TOP." Olympic sponsorship researcher and assistant professor Jonathan A. Jensen and Jamie Corr, Vice President of Global Sports and Entertainment Consulting for leading sport marketing agency GMR, will lead a discussion on the current state and future of Olympic sponsorship. The workshop will focus on how recent changes to the Olympic sponsorship platform, including the Rule 40 exemption, the expansion of the number of TOP sponsors, and increased rights fees for the Tokyo and Beijing Olympic cycles, will impact the future of a program that provides more than a third of all Olympic-related revenue. Coordinated by Prof. Dr. Jonathan A. Jensen (USA), University of North Carolina at Chapel Hill.